Flood Damage Affects Buildings of All Sizes in Baldwin Park
3/13/2019 (Permalink)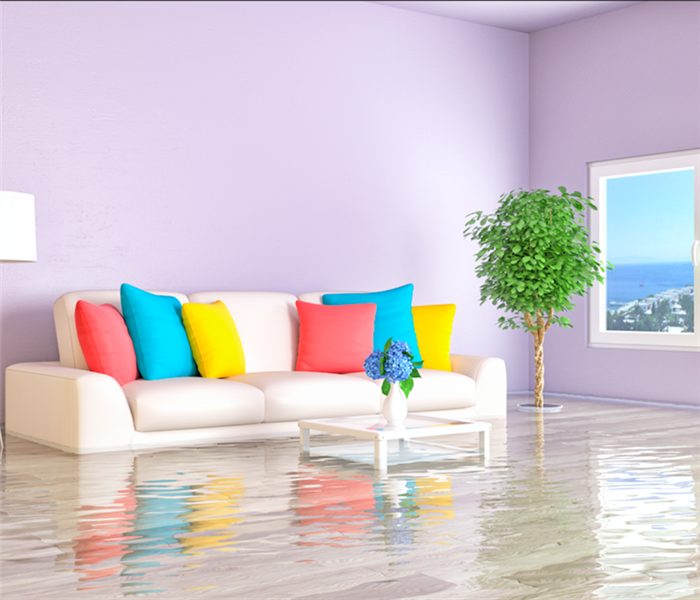 This may look like an easy fix but it is not. Call SERVPRO today to help fix this fast and efficiently.
Commercial Flood Damage Restoration for Apartments in Baldwin Park
A natural weather event can cause flooding to your property block resulting in angry tenants and, if not remedied quickly, legal challenges. As the landlord of a block of flats restoring the ground levels quickly can often go beyond the scope of your regular janitorial team, unusually where cinder blocks have prolonged exposure to standing water. Using a professional commercial restoration service can save you unnecessary expenses and keep your tenants happy.

Apartment blocks with commercial flood damage in Baldwin Park rely on an immediate response unit to help limit losses in an emergency. Tenants can quickly become agitated by the shutting off of power or standing water inside the property. What makes life more difficult is that cinder blocks typically used in the construction of apartments have open cells that can quickly absorb moisture.
SERVPRO is available 24 hours a day via our emergency call-line and can send an emergency response team to your property immediately upon receiving notification of loss. Our technicians set to work straight away removing hazards, creating a safe workspace for general contractors and restoring power. Wet cinder blocks can cause permanent damages especially during the winter months where the risk of water freezing and subsequently expanding, can require demolition if left unchecked.
Using industrial drilling equipment and our extensive expertise, we can get air circulating into wall cavities while draining excess moisture from the cinder block. By using a nonpenetrating moisture meter, we can efficiently detect whether a wall cavity is completely dry or may need more advanced equipment to help reduce secondary damages. Taking this measurement can be the difference between sustaining permanent losses or restoring a building to its preloss conditions. In cases where cinder blocks are not sufficiently dry, we can use injectidry systems or other advanced pieces of equipment like desiccant dehumidifiers to get the job done.
In a natural weather emergency, you need a service that can act fast, contact SERVPRO of Irwindale / Baldwin Park immediately at (626) 337-3374.
Click here for me about Baldwin.