Fire, Smoke, Soot, and Odors - Never Pleasant Effects for An Irwindale Home
8/14/2019 (Permalink)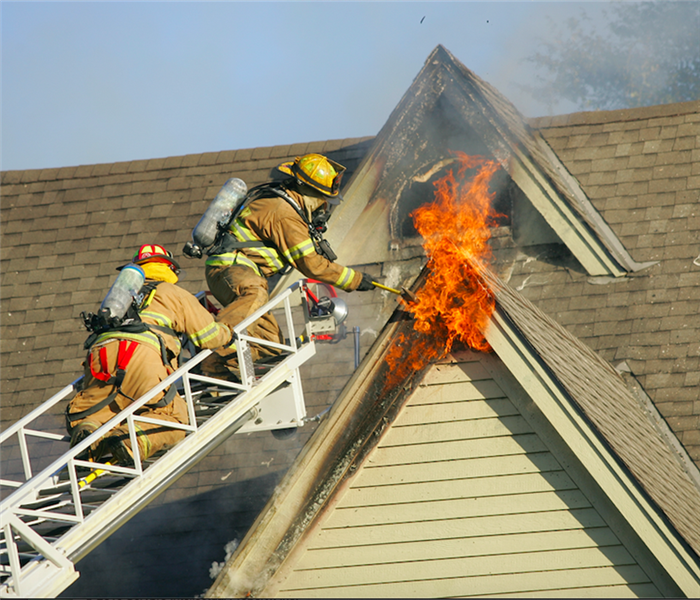 Fire damage can truly ruin your home if not taken care of properly. Call the professionals at SERVPRO today for remediation assistance.
Why Quick Fire Damage Restoration for Your Irwindale Home is Vital
Fires in homes are devastating. The flames and smoke from a fire cause physical destruction to a home and its contents. After a fire, homeowners should respond quickly to prevent further damage. Responding fast can counter the extent of the fire and smoke damage, and the associated corrosive substances.
If you experience fire damage in your Irwindale home, hire professionals immediately to restore it to its pre-damaged state. Regardless of the fire damage your home experiences, quick action can ensure a less costly and successful restoration. As you wait for the experts to arrive, you can perform tasks such as:
Opening doors and windows to increase ventilation
Placing fans in the property to get clean air circulation
Washing fabrics, carpets, and upholstery
Fire damage is classified into two categories:
Primary damage which revolves around the fire.
Secondary damage which results from the smoke and bad odors left lingering in the property.
Fire damage is also classified into six categories, beginning from Class A to Class F. After a fire, the following usually occurs.
Smoke's hidden reach
Smoke damage can occur in unexpected areas of your house. For instance, if smoke engulfs your living room, the spaces behind the drapes in your guestroom can contain a significant amount of smoke residue. Smoke can also travel quickly through the ductwork of your property.
Bad odors
Besides the soot, bad odors still linger in the property, and they can penetrate the ceilings, walls, and furniture. The unpleasant smells resulting from smoke and fire damage should be dealt with promptly. Our SERVPRO technicians can remove the odors using thermal foggers and hydroxyl generators to help you get back to a habitable environment once again.
High levels of Acidity
Soot has high acidity levels, and it destroys natural elements. Metals that come into contact with soot can etch and eventually discolor. Magnetically charged smoke particles can cause short-circuiting in electronic equipment. Quick restoration after fire damage is vital considering the adverse effects of smoke, fire, and their acidic by-products. Our Fire Damage Restoration Technicians (FSRT) can act speedily to lessen the ruin in your property.
We clean the structure and contents separately. We can eliminate all traces of smoke and soot from different surfaces, such as walls and ceilings. Sometimes, we move contents out of a structure and clean them in our facilities. When cleaning contents on-site, our SERVPRO technicians move them to a clean area of the house.
Our technicians use different products to clean a structure and its contents, including general surface cleaners, liquid crème cleaners, glass cleaners, and heavy-duty cleaners. We also have advanced equipment like thermal imaging cameras, moisture meters, and moisture sensors that can detect hidden water damage resulting from fire-fighting efforts.
When you experience fire damage in your home, call SERVPRO of Irwindale/Baldwin Park for remediation services. Our team of professionals can handle the loss to make it look, "Like it never even happened." Call us anytime at (626) 337-3374 for swift restoration.
Click here to see more about Irwindale.