Our Certified Professionals Have The Expertise To Handle Water Damage In Vincent
6/13/2019 (Permalink)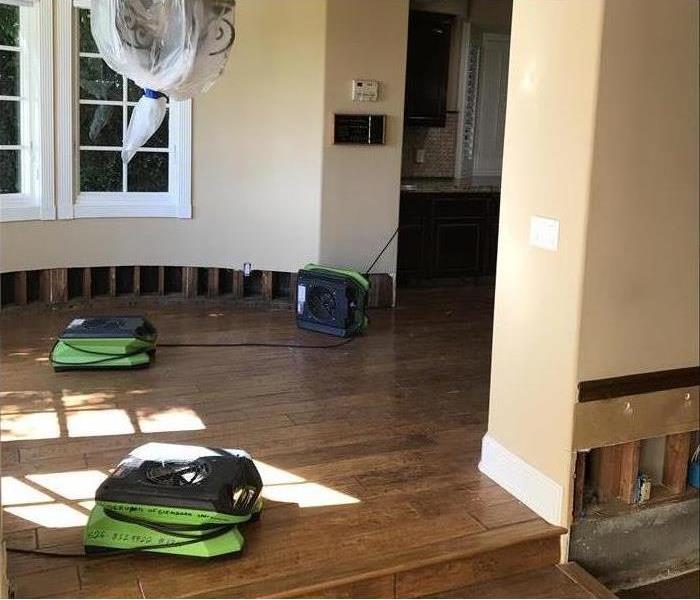 We have the necessary equipment to restore your home and prevent further damage. We are available 24/7, please do not hesitate and call us right away.
SERVPRO - Restoring Water Damaged Homes In Vincent
As part of the Central Valley, Vincent is a great community outside much of the traffic congestion but still able to enjoy everything Southern California can offer. Although residents avoid the flooding that occasionally happens to other parts of the county, they still have to deal with water issues from split lines on a washing machine or another failed appliance.

Even what seems to be a small amount of water can damage a Vincent home to the cost of hundreds or even thousands of dollars. SERVPRO technicians train to meet the requirements of the Institute of Inspection Cleaning and Restoration Certification (IICRC) for restoring area homes to their original, dry condition.

Since floors and carpets take the brunt of the damage after a large spill, the effects on walls and floor trim often get overlooked. Painted drywall panels make up most residential interior walls, or else they might have wood paneling mounted over them. The material performs well until it starts to absorb water. In a short amount of time, drywall panels start to crumble in place, and the thin pieces of wood that make up the floor trim begin to crack and split, making them useless.

To prevent this, SERVPRO technicians quickly remove any standing water. Eliminating the visible water is simple with a pump, but getting the water out of the panels and behind them takes a different set of tools as recommended by the IICRC. To draw out the rest of it, personnel remove the floor trim and drill holes in every affected panel. That allows water trapped behind the panels to drain and also increases the natural evaporation of water out of the panels and trim.

If the wall cavity is very humid, technicians insert a hose through the hole connected to an air mover. This device directs warm, dry air into space, further speeding up evaporation. They place one or more air movers next to the outside of the panels and trim, and direct the airflow carefully over the surfaces to dry them without further damage.

If a panel or section of trim is too damaged for restoration, other team members can quickly demolish and remove them without causing additional damage to the rest of the home. They can replace the panels in an average-sized room, and paint or panel over it, so the room looks as it did before the water issue.

For SERVPRO of Irwindale / Baldwin Park, our task is to put the owner and other residents back inside their clean, dry home. If you have had any water spill in your home, call us at (626) 337-3374 today to schedule a visit and start the restoration process.
See more about Vincent.