About SERVPRO of Irwindale / Baldwin Park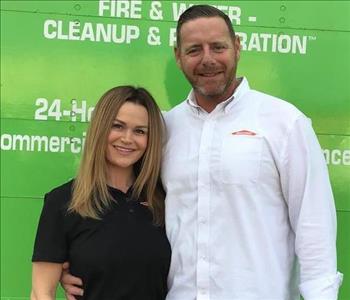 Joseph McCann, Danielle McCann
Owners of SERVPRO of Irwindale / Baldwin Park
In an emergency, you do not have a second to waste. With our emergency response team ready 24 hours a day to help you mitigate the damage to your property and restore damages from fires, water incidents, mold growth, storms, floods, and more, you do not have to wait. Even in the most severe of damages, our commitment to our customers can have industry specialists available within hours for unique circumstances. Our owners Joe and Danielle McCann are always ready to help.

Our business model is so successful in the Irwindale region because we do not settle for providing our customers with less than the high caliber work that they deserve. From our continued training in the most advanced techniques available for every facet of home and commercial restoration to our ongoing dedication to maintaining the best possible equipment available for restoration, remediation, and abatement, our technicians get prepared for every situation they could encounter in the field.

As a certified large loss provider, our restoration expertise can extend beyond the threats to residential properties and offer the same level of quality work for commercial buildings. We have the equipment and personnel to handle substantial loss in industrial and commercial settings. This expertise and preparedness have made us a premier option in the restoration industry for local homes and businesses, accentuated by our Outstanding Sales Performance awards we've received annually since 2008.

From the recovery of your home following a fire or the restoration to one of the major universities within our region, we treat every project with the same fervor and intensity. Our goal is to minimize our impact on your life, and that gets best achieved through efficient practices and effective time management strategies to limit the length of restoration. We care for the community because we are part of it too, as standing members of the Baldwin Park Business Association, the Irwindale Chamber of Commerce, and avid enthusiasts of our world-renowned theme park attractions like Disneyland and Universal Studios Hollywood.
Insurance and Payment Information
For a stress free claims process, SERVPRO works with your insurance to help manage the insurance process and paperwork.
Certifications
Accredited Asbestos inspector
AMRT - Applied Microbial Remediation Technician
ASD - Applied Structural Drying Technician
CCT - Carpet Cleaning Technician
ECTP - Employee Certification Training Program
FSRT - Fire & Smoke Damage Restoration Technician
IICRC Certified Firm
OCT - Odor Control Technician
RRRP - Lead-Based Paint Activities and Renovation
WRT - Water Damage Restoration Technician
Affiliations
Accredited Asbestos Building Inspector
Applied Structural Drying (ASD) Certification
Applied Thermography Certification
Baldwin Park Business Association
BNI Western Connection
Carpet Cleaning Technician (CCT)
Citrus Valley Realtors
Compliance Depot
Contents Processing and Handling
Contractors State License, State of California
Crawford Contractor Connection
Diamond Property Loss Solutions
Environmental Protection Agency (EPA) Certification Toxic Substances
Fire and Smoke Damage Restoration Certification (SRT)
Glendora Chamber of Commerce
IAQ/IH Sampling Certification
Institute of Inspection Cleaning and Restoration (IICRC) Certificate - Firm Certified
Irwindale Chamber of Commerce
Lead-Based Paint Activities and Renovation Certification (RRRP)
Mold Remediation
San Dimas Chamber of Commerce
South Pasadena Chamber of Commerce
Subrogation Certification
Water Damage Restoration (WDR) Certified
Xactimate
Awards
Double Volume Award
Congressional Order of Merit
Contractor Collection - Crawford Global Day of Service
15 Loyal Years of Service
Baldwin Park Business Association
Chairman's Silver
Irwindale Chamber of Commerce March Business of the Month