Some of the Biggest Problems with Flood Damage in Your Vincent Business Office
1/8/2019 (Permalink)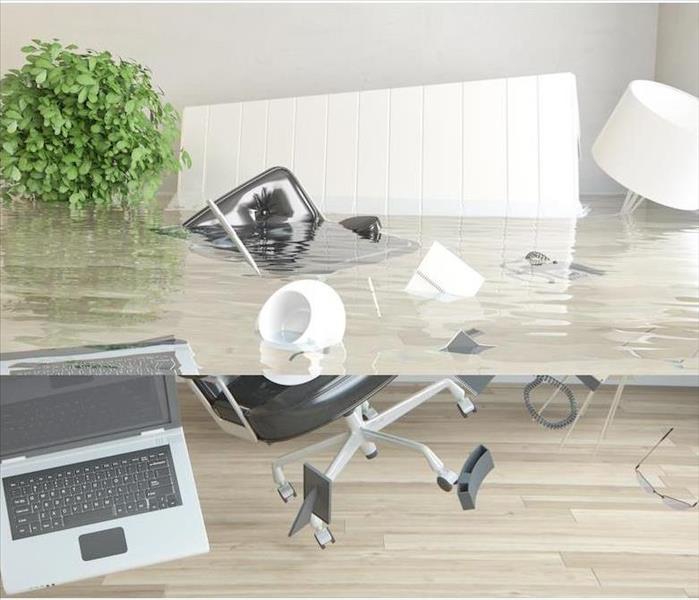 When your business has to recover from flooding, it's best to have our IICRC certified company on your side. Call us to start water removal.
Commercial Flood Damage Technicians in Vincent Talk About The History of the Restoration Industry
Back in the day when there were problems with your Vincent grocery store after a storm, different techniques were used than professional companies like SERVPRO use today. Now flood damage restoration involves industrially advanced equipment that allows for rapid structural drying to take place much quicker than in the past. It used to be that restoration was only conducted by carpet cleaning companies. Back then, the primary focus was on getting the carpet inside the building dry. In the late 1970s, the commercial flood damage restoration industry began to make a change for the better.

Since then, specialized equipment and training have been introduced to the industry. Now when we conduct commercial flood damage restoration in Vincent, our SERVPRO technicians have decades of advancing technology at our fingertips. The carpet cleaning companies that pioneered the water restoration industry had steam cleaners at their disposal which worked well for extraction. These days there are more advanced tools that we can use to initially extract excessive moisture from carpet and other materials. Professionals in the industry have also learned new methods that focus on drying your store's structural components and preventing mold growth.

In the past, restoration companies would always place air movers so that they pushed air underneath carpet and pad inside your office or break room and created a "floating" effect. Using only this method, technicians had to place one air mover for every 200 to 250 square feet. This caused high energy consumption, and it took a long time to complete. With tile floors inside grocery store's, technicians would use massive airflow to dry out the flooring materials.

Today, industrially advanced air movers get placed so that they create a circular airflow motion and hit walls at a 45-degree angle. This way, the air movers are more energy efficient, and it requires fewer fans per square foot of affected area. Dehumidifiers now also get used to pull moisture out of the air and provide warm, dry air for the air movers to use in their counterclockwise circulation.
If your grocery store ever suffers problems after a storm, call SERVPRO of Irwindale / Baldwin Park at (626) 337-3374 24/7.

Click here for more information about Vincent.