Preparing a Storm Supply Kit for Your Baldwin Park Home
9/21/2018 (Permalink)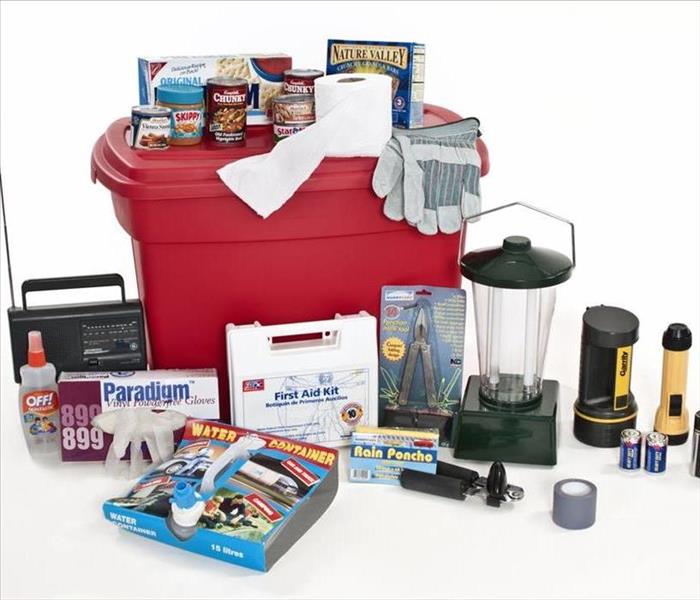 A disaster supply kit is a collection of basic items your household may need in the event of an emergency. You should have a kit at home and also at your place of work. At work, try to include a pair of comfortable shoes in case you need to walk to a shelter area. It's best to assume that in the event of an emergency or natural disaster, roads will be inaccessible by vehicles, and public transportation will be shut down.
Try to assemble your kit well in advance of an emergency. You may have to evacuate at a moment's notice and take essentials with you. You will probably not have time to search for the supplies you need or shop for them. After an emergency, you may need to survive on your own for several days. Being prepared means having your own food, water and other supplies to last for at least 72 hours.
Additionally, basic services such as electricity, gas, water, sewage treatment and telephones may be cut off for days, even a week or longer. Your supplies kit should contain items to help you manage during these outages.
Emergency Supplies
Water, food and clean air are important things to have if an emergency happens. Each family or individual's kit should be customized to meet specific needs, such as medications and infant formula. It should also be customized to include important family documents.
Recommended Supplies To Include In A Basic Kit:
Water, one gallon of water per person per day, for drinking and sanitation
Food, at least a three-day supply of non-perishable food
Battery-powered radio and a NOAA Weather Radio with tone alert and extra batteries for both
Flashlight and extra batteries
First Aid kit
Whistle to signal for help
Infant formula and diapers, if you have an infant
Moist towelettes, garbage bags and plastic ties for personal sanitation
Dust mask or cotton t-shirt, to help filter the air
Plastic sheeting and duct tape to shelter-in-place
Wrench or pliers to turn off utilities
Can opener for food (if kit contains canned food)
Local maps
Cell phone with chargers and a backup battery
Cash or traveler's checks
Maintaining Your Kit
After assembling your kit remember to maintain it so it's ready when needed:
Keep canned food in a cool, dry place

Store boxed food in tightly closed plastic or metal containers

Replace expired items as needed

Re-think your needs every year and update your kit as your family's needs change.
https://www.wunderground.com/prepare/disaster-supply-kit
https://www.ready.gov/build-a-kit