What is Mold?
8/1/2018 (Permalink)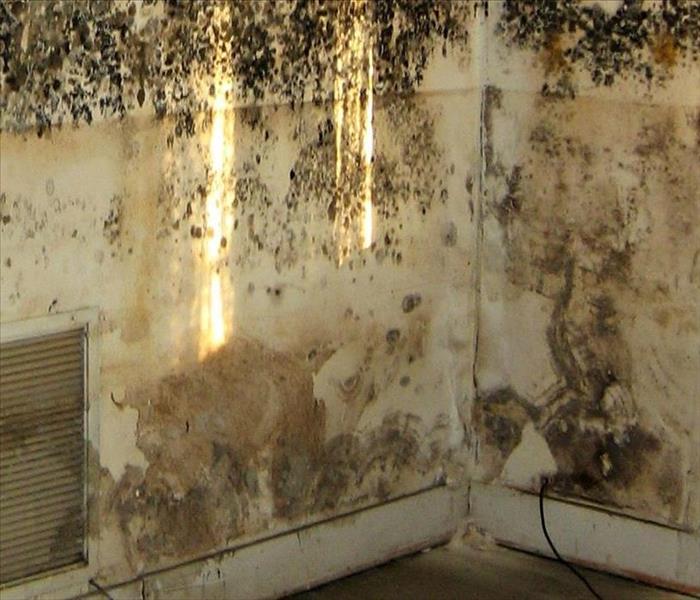 What is Mold?
We hear a lot in the media these days about the dangers of exposure to mold, but what is mold exactly, anyway? Mold is not a plant or an animal, but a type of fungi. We eat some types of fungi, like many kinds of mushrooms and the yeast we use to make bread rise. Some types of mold are even used to make medicine, like the type of mold that is used to make penicillin, a life-saving antibiotic.
There are hundreds of different kinds of mold found both indoors and outdoors. Mold grows in damp, dimly-lit areas. Indoors, it can often be found in places like attics, basements, crawl spaces, and bathrooms. Mold is also common in other areas if there is a leak in the roof, leaky windows, leaky pipes, or seasonal flooding. Some molds commonly found indoors include aspergillus, chaetomium, cladosporium, penicillium, and stachybotrys.
Mold growth requires moisture. The sources of moisture could be washing, cooking, air humidifiers, condensation or leaks from plumbing or from the outside. Poor ventilation contributes to higher humidity levels and leads to condensation, which also allows mold growth.
You may begin to notice a damp, must odor in a specific area of your home. This means you should check for damp walls, carpet, flooring and any other spaces that may be breeding grounds for mold. The key is to treat a mold problem immediately, before the infestation becomes worse or causes permanent damage.
What is Mold Remediation?
Mold remediation is the process of removing mold and repairing mold-related damage in the home. It's a complicated process and must be done carefully in order to prevent further exposure to potentially harmful mold spores. Mold can be cleaned from some materials, like bathtubs and tile, and the surfaces disinfected. Some materials, though, like drywall, wood, and carpeting, are impossible to clean thoroughly and instead must be removed and replaced.
Mold remediation is challenging in part because mold can grow in so many out-of-sight places, including inside walls, under carpeting, above ceiling tiles, and inside heating and air conditioning ducts. Just locating all the mold can be difficult, and if you miss even a little bit, it will just continue to grow and spread. Soon you'll have a full-blown mold problem on your hands again.
When it comes to mold in your home, leave it to the professionals and call SERVPRO of Irwindale/Baldwin Park to help make it "Like it never even happened."
http://www.moldbacteriafacts.com/what-is-mold/
https://www.mold-advisor.com/what-is-mold.html